Accessing OneDrive
From any company or personal computer, browse to the following location:
Log in with your Office 365 Username and Password
Click on the OneDrive App from the Apps list (Users can click on the Word, Excel and PowerPoint apps directly if they want to create a file quickly.)

Or
If the user is in the web based email app Outlook or any of the other Office 365 applications, click on the App Launcher (9 dots top left hand side)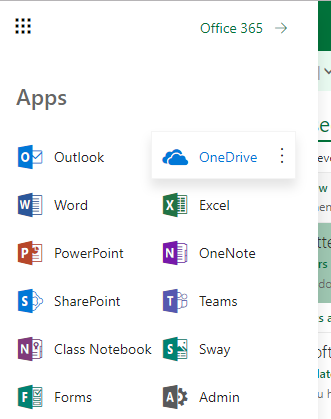 Then click the OneDrive app.
NOTE: – If any user does not have OneDrive app listed, we will need to modify the users Office 365 license to ensure they have access.
Using OneDrive
To create new files or folders click on New.
To upload files to your OneDrive click on Upload or drag files from Windows Explorer to the OneDrive screen
When you click on the New link you will be presented with the following pop-up menu, where you can create folders, Microsoft Word documents, Excel workbooks, PowerPoint presentations or OneNote notebooks.