What is Delve?
Have you ever wanted to find all the documents around a particular subject? Or is there a member of staff you are about to have a meeting with, and you need to get up to speed on what they have been working on recently? Delve can help. It intelligently discovers and organises information from across all of your school's Office 365, and then displays it to you making everything easy to find and understand. Find work by particular people or search on a keyword or subject. And you'll only ever see the content you have access to. Finding content has never been so easy.
 Using Delve
To go to Delve, select Delve in the app launcher in Office 365, or open delve.office.com in your browser. Sign in with your work or school account if necessary. The screenshot below shows you an overview of what Delve looks like.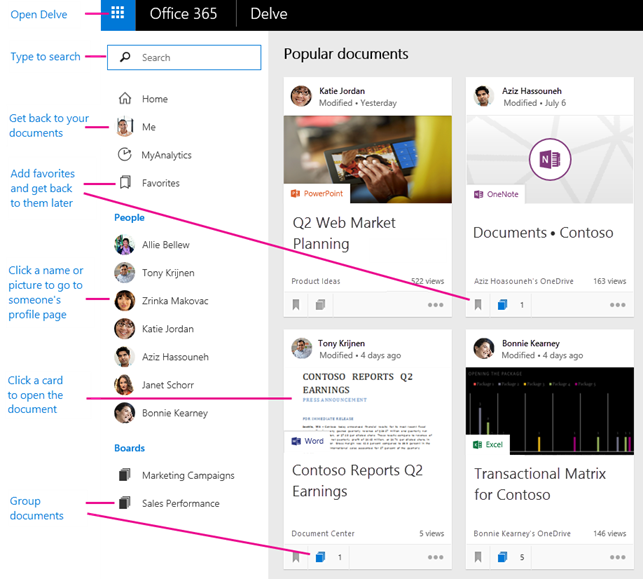 To get a personalized and up-to-date overview of what you and people around you are currently working on, choose Home. Your Home page shows documents that are likely to be most interesting to you right now.
Click Me to go to your profile page. The Get back to your recent documents section shows the documents you've recently authored or modified, and that are stored in OneDrive for Business or in SharePoint Sites. Click a document to open it, or click See all to see more documents.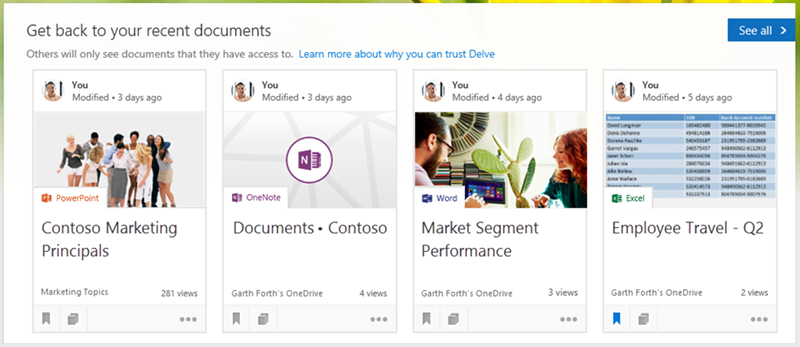 Click someone's name or picture anywhere in Delve to see documents they're working on or to learn more about them. The People list on the left shows some of the people you've recently viewed in Delve. To find other people:
Click a person's name or picture anywhere in Delve.
Or, type their name in the search box, and then click their name.
When you find a document you're interested in, add it as a favorite or to a board to easily get back to it later. Click the bookmark icon to add the document to your favorites. You can also collect related documents by adding them to a board. See Group and share documents in Delve for more information.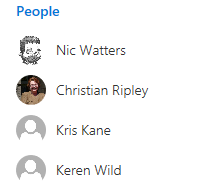 Search for people, documents, or boards. Start typing in the search box to find people, documents, or boards. Search in Delve is personalized. Even before you start typing in the search box, you may see a list of suggestions based on your previous activity. As you start typing, the list of suggestions changes accordingly. If you press Enter or choose Show more results, you'll see more search results based on what is most likely to be relevant to you.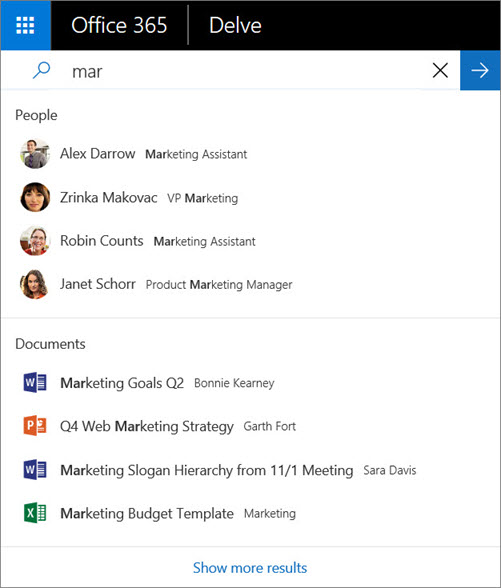 Please see this Microsoft article about Office Delve, from which this article has been adapted, to learn more about Delve, including how to:
Manage your profile to help colleagues more easily find out what you are currently working on, and what skills and experience you have.
Group and Share documents, to make it easier to keep track of documents and organise them for easier working.