Add Q&A to a Teams meeting or webinar
Note: Q&A is Generally Available and must be set up through Meeting Options. Please see the Organizer set up and Microsoft 365 tenant admin documentation.
Add Q&A
You can add Q&A at any time in a Teams meeting. The instructions that follow are for adding Q&A when you create a meeting.
Use the Teams or Outlook calendar to create a meeting and add at least one other person.If you're in Outlook, make this a Teams meeting by clicking the Teams Meeting button on the toolbar, then save your meeting.
Select the + button in your Teams meeting and add Q&A.
Select

 

Add.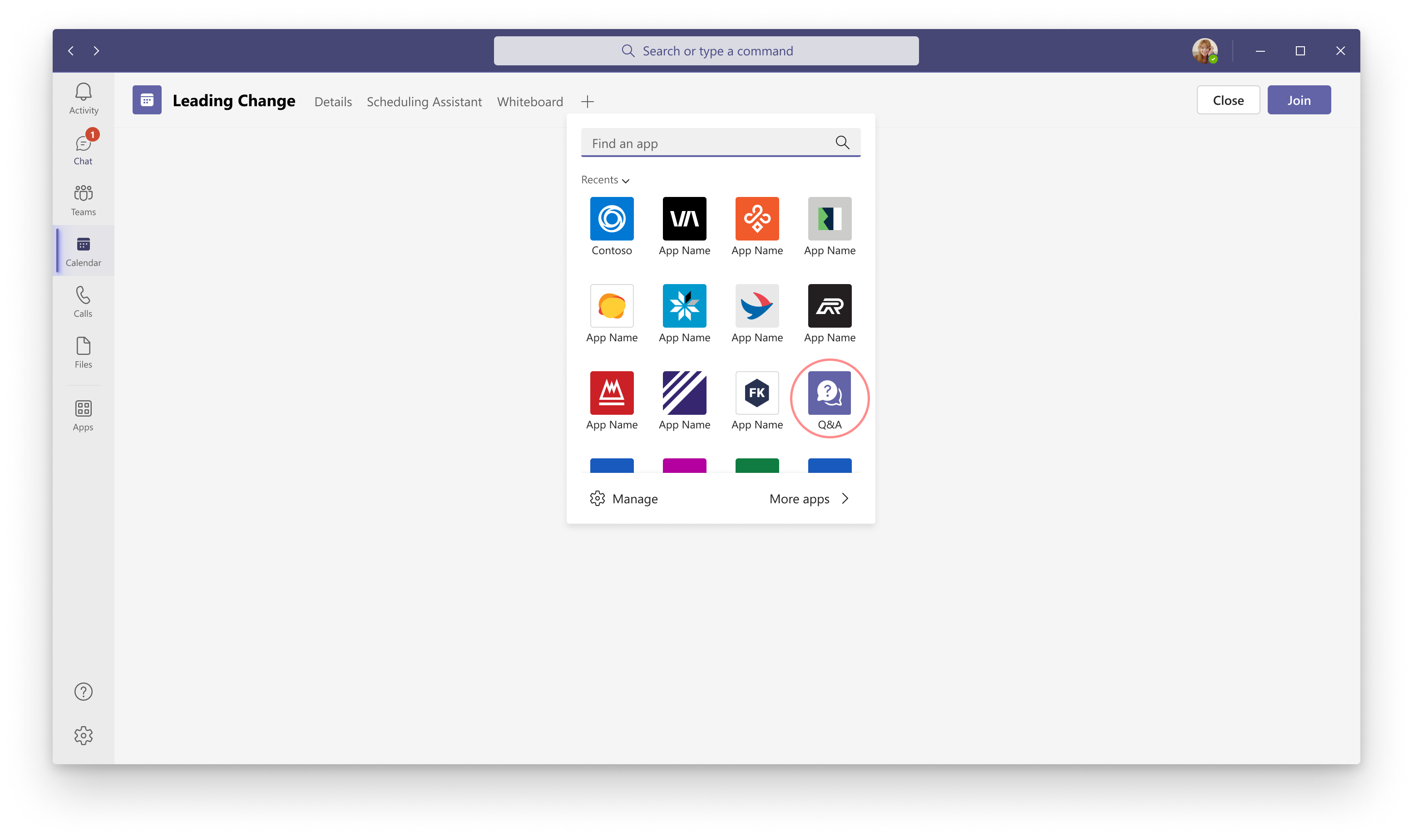 Note: If you don't see the app, search for Q&A in Find an app to locate and add it.
When you add Q&A, you can choose the initial settings for your meeting. You can also change these settings during the meeting from the meeting's chat window.
Note: You can enable Moderate attendee conversations at any time but can't disable it once it's active.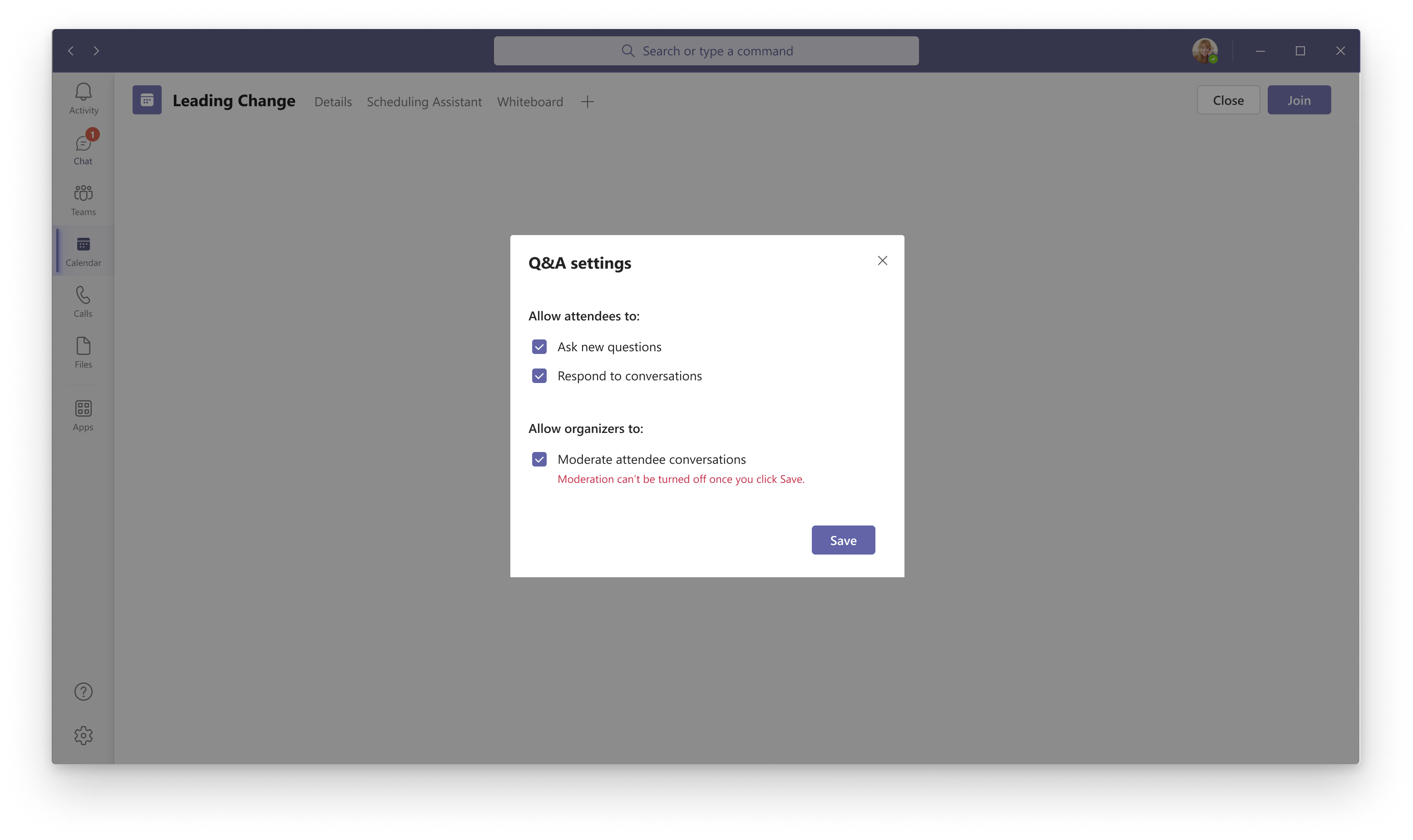 Select Save to save your settings and return to the calendar event.

It's a good idea to enter a first comment in the Q&A thread to help people get started. To do this, select Q&A from the top menu of the meeting, and then add a post.
Add Q&A to a meeting sent from a delegate or group
For scenarios where a meeting is scheduled on behalf of someone else, such as through delegate settings in Microsoft Outlook, or scenarios where a meeting is scheduled on behalf of a group, it's important to note that the only the organizer of the meeting can add Q&A to the meeting.
For delegate meetings, this means that the person who appears to be owning or organizing the calendar invite is the organizer, even if a delegate sent the calendar invite on behalf of this organizer. In this scenario, we recommend asking the meeting owner to add Q&A. The delegate can then configure meeting roles in Outlook via the Meeting Options add-in.
For meetings sent from a group, the individual sending the invite from their personal inbox is the organizer. This individual can configure meeting roles in Outlook by using the Meeting Options add-in and add Q&A in Teams.
Moderated or unmoderated meetings
In an unmoderated meeting, attendees' questions will appear in the Q&A feed immediately. If you've turned on moderation, you (as an organizer or presenter) will see three headings in the Q&A thread. They are:
In review (all new questions)

Published (questions that can be seen by attendees)

Dismissed (questions that have been reviewed but not published and so won't be seen by attendees).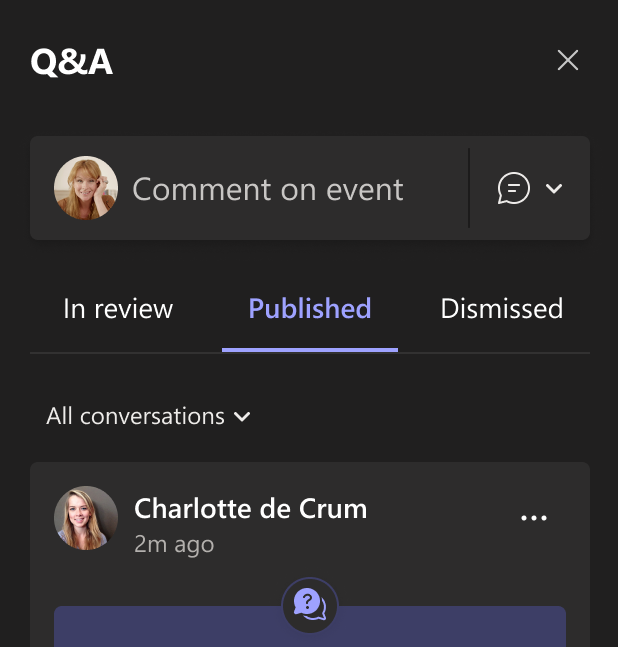 Run a moderated meeting
When moderating is enabled, all new questions will appear in the In review tab. Any moderator (the organizer or the presenter) can review and either publish or dismiss questions. Published questions will be moved to the Published tab and visible to all attendees. Dismissed question will be moved to the Dismissed tab. Dismissed questions can be published later, if desired.
Organizer and presenter experience
There are two types of core experiences – Unmoderated and Moderated Q&A:
Unmoderated Q&A—enables all attendee questions to be immediately posted to the Q&A feed.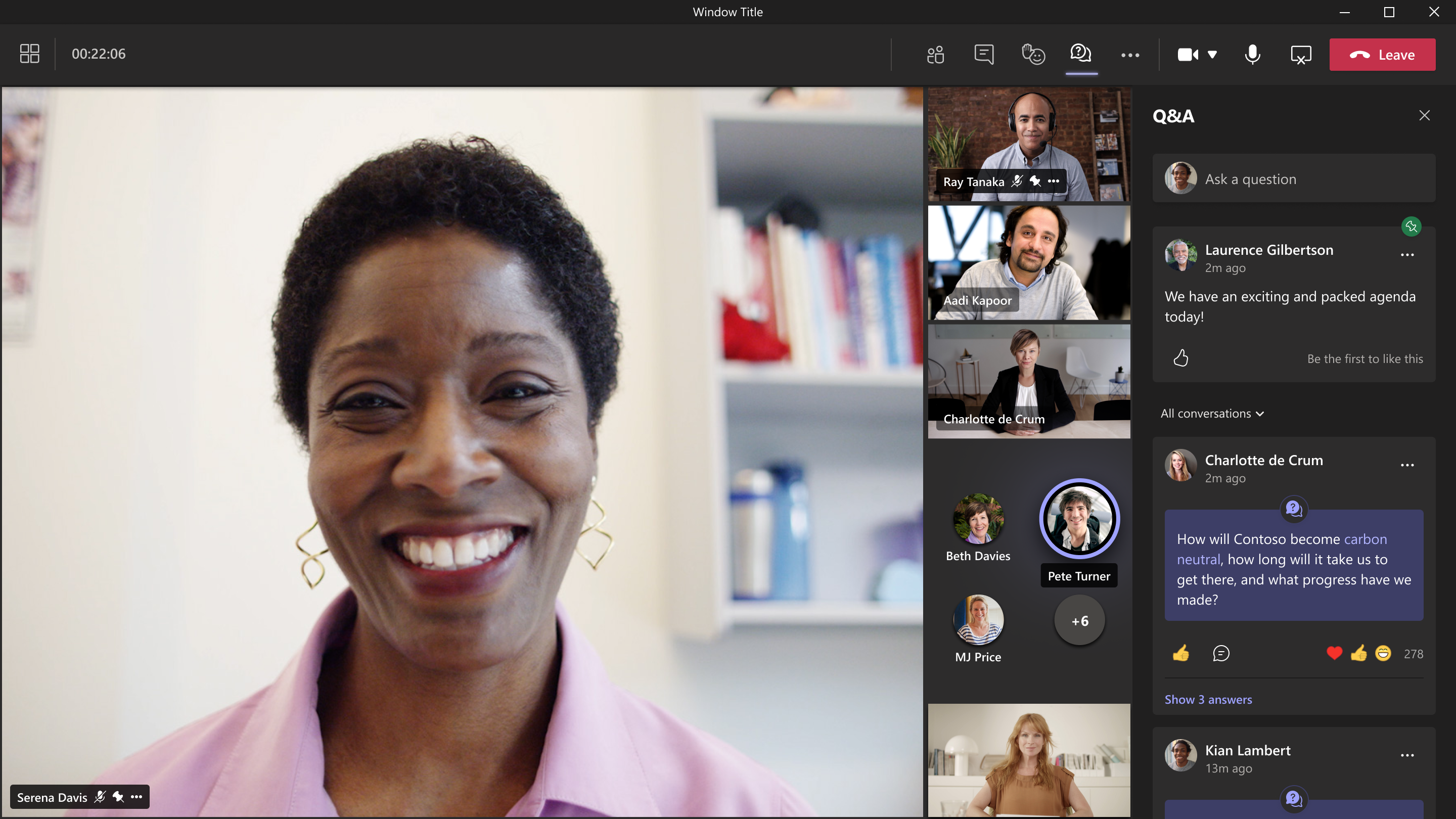 Moderated Q&A—requires questions to be reviewed by a moderator (the meeting presenter or organizer) before being published for everyone to see and comment on.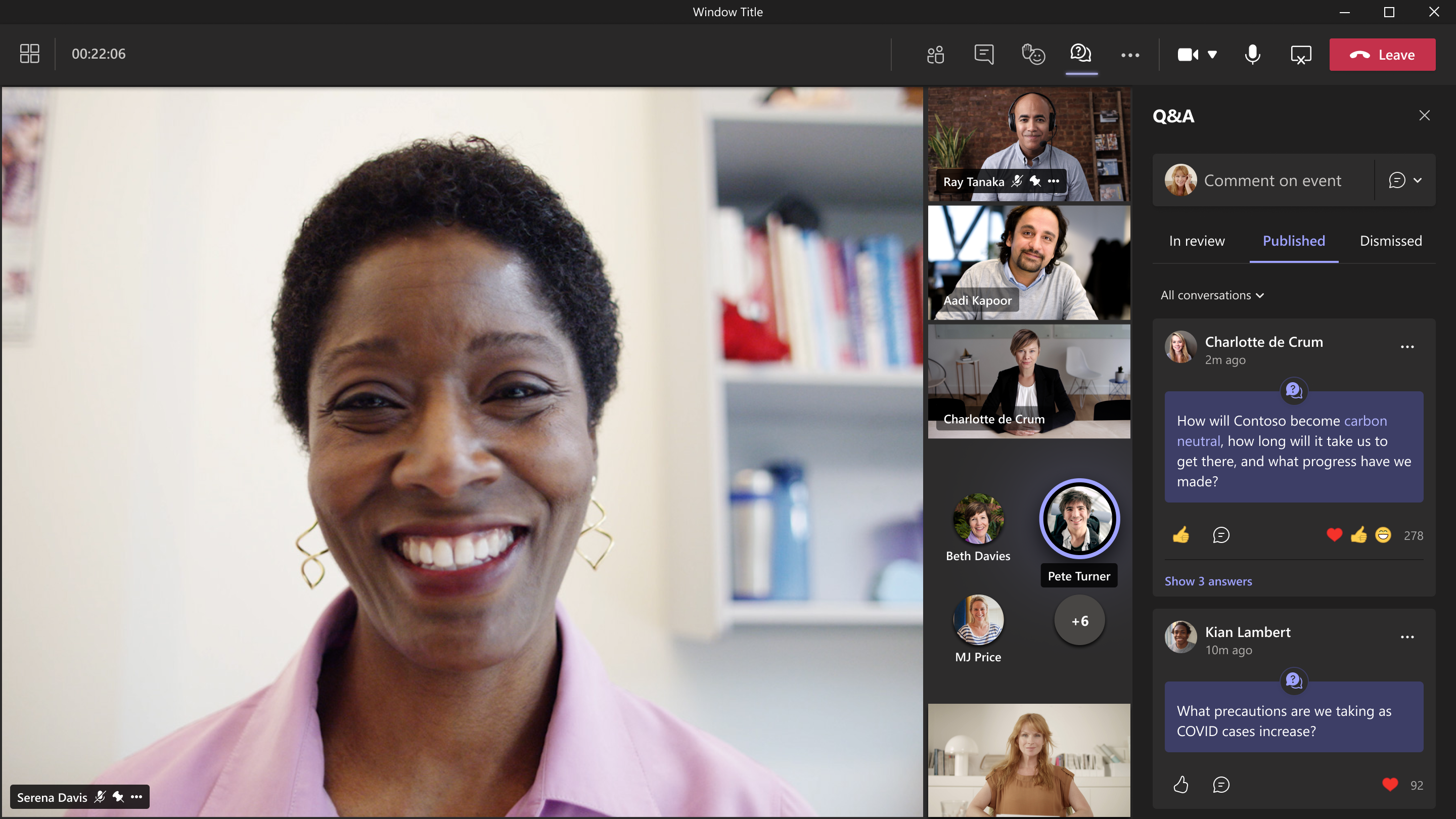 When moderation is enabled, all inbound questions go to the In review tab. Here, they can be published (and moved to the Published feed for all attendees to see) or dismissed, where they will move to the Dismissed tab. If needed, they can later be restored or published.
Important: 
It's crucial to set up the meeting to allow only specific people to be presenters, which you can do in the Teams Meeting options. Anyone you designate as a presenter can moderate. If you don't enable and designate specific people as presenters, then everyone will be a moderator.

In addition to the core experiences, a presenter and organizer can control when questions are posted and if replies are allowed (to make the questions threaded). This can be toggled on or off at any time.
Attendee experience
Q&A is designed for meetings that require more structure. Whether a meeting is moderated or not, attendees will always see only a single Q&A feed. They can post, reply (if replies are enabled), and react to any question in the Q&A feed.
If moderation is enabled, when attendees submit questions, they will be notified that the question has been received and will be published if the moderator approves.
After the meeting
The questions and answers in your Q&A session will continue to be available for review in the Q&A tab in the Teams calendar event after the meeting.
FAQ
How can the Q&A app be managed?
As an admin, you can view and manage all Teams apps, including the Q&A app, for your organization.
How to export Q&A content?
Q&A content is stored in the Microsoft 365 compliance center and accessed through eDiscovery. Future iterations will include a meeting highlights report and export functionality for meeting organizers. 
Does Q&A support Microsoft 365 Multi-Geo capabilities?
Q&A does not currently support Microsoft 365 Multi-Geo capabilities. Q&A Data will be stored in North America or EU by default (depending on the customer's Yammer network location). 
How to enable Q&A for all meetings and webinars?
Currently, the Q&A app must be added to each meeting by the meeting organizer. Future iterations will include the ability of adding Q&A at meeting creation in Outlook and Teams and meeting delegate support.
Can I have a new Q&A feed for every new recurring meeting?
Currently the Q&A app supports one Q&A feed for all recurring meetings. Future iterations will include the ability for organizers to create new Q&A feeds for each recurring meeting. 
Is Q&A available in GCC?
The Q&A app is available in GCC when GCC admins enable Yammer Enterprise in their Microsoft 365 tenant.
Where can I learn more about structured meetings?
Follow these best practices for hosting successful large meetings in Microsoft Teams.