The NYES Digital Online Webinar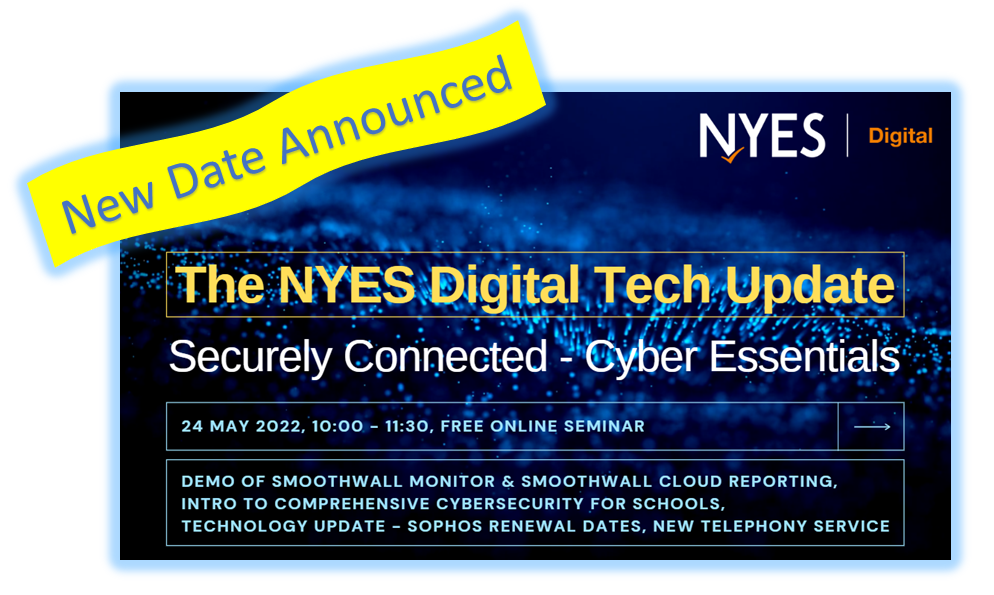 Securely Connected – Cyber essentials
24th May 2022, 10:00 – 11:30am, Teams online seminar
Invest just 90 minutes of your time to learn how to your school can stay Securely Connected by joining the NYES Digital Technology Update seminar.
Why should I attend?
Now, more than ever, we turn our attention to digital safety.
With world events uppermost in our minds we explore what it means to be a digitally secure school.
We'll hear how Smoothwall Monitor can proactively monitor internet usage in real-time to alert safeguarding teams to risks as they happen.
We'll spend time looking at what measures a school need to have in place to be cyber secure and we'll update you on all the 'need to knows' and new initiatives available through your NYES Digital traded service.
Programme in more detail
Internet Filtering – proactive 'appropriate monitoring' & how to take your web filtering into the cloud keeping your pupils and staff safe all of the time inside and outside school. Demonstrations of Smoothwall Monitor & Smoothwall Cloud Reporting
Cyber Security – taking IT up a level – NYES Digital expert presentation, Exploring best practice for schools in Cyber Security
Technology Updates – everything you need to know about changes and new developments from NYES Digital including Sophos renewal dates, new telephony service, progress with the new MIS framework and work to update the online shop.